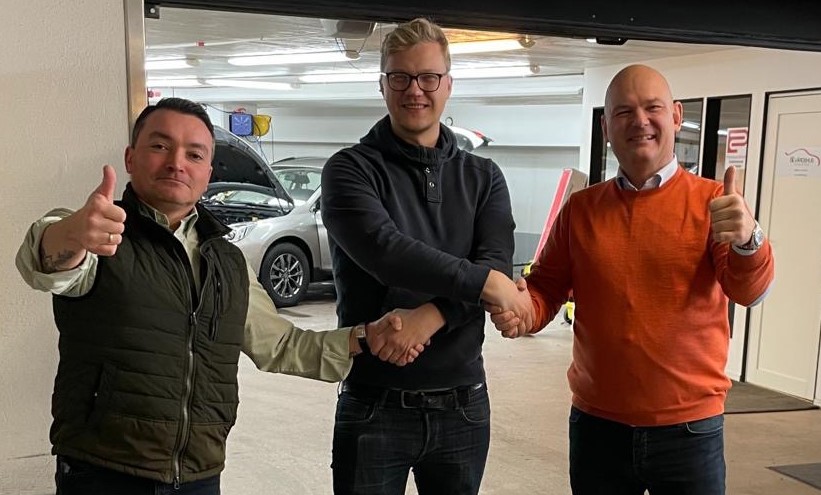 Concept Carcare.com buys Nacka Bilvårdshus and offers car dealers in Stockholm a unique "one stop shop" solution in car care before remarketing of used cars
As part of the continued expansion in Sweden, Byens Bilpleje's subsidiary, Concept Carcare SE AB, has just taken over Nacka Bilvårdshus in Stockholm.
Based in Stockholm, Byens Bilpleje.com is well on its way to establishing itself in the Swedish market for cosmetic car care, painting and smart repair. The recent acquisition of Nacka Bilvårdshus means that the subsidiary Concept Carcare now has seven branches in Stockholm.
– We take over Nacka Bilvårdshus, which is a well-run company with a large customer group in the heart of Stockholm, and at the same time we are very happy that the former owner Christoffer Annerbrant and his two talented employees continue with our team, says Kalle Nordén, who is Head of Development at Concept Carcare SE AB.
Nacka Bilvårdshus is an experienced Ditec car care center with a 1000 m2 production facility. With the acquisition, Concept Carcare covers even better geographically throughout Stockholm and thus has a solid platform to grow into the BTB area in the form of the large car dealers, leasing companies and fleet owners.
Great ambitions in Sweden.
The market in Sweden has welcomed the one-stop-shop concept and the opportunity to have a professional partner who can offer a digital process and a clear focus on quality, efficiency, flexibility and focus on the environment.
We are expanding our business in Sweden as good opportunities arise in the big cities. Therefore, it is clear that the next steps for our subsidiary Concept Carcare SE AB, is to look at new acquisitions both in and outside the Stockholm area, says Group CEO of Byens Bilpleje.com, Dennis Odgaard and continues:
– Byens bilpleje.com has gradually tested our Danish concept well in Sweden, and I am convinced that we will have as big a growth journey in Sweden as we have had in Denmark. But we do not want to force the expansion. We want the right partners with the best locations on board. This can not be done in half a year, but there is no doubt that the goal is an equally clear leadership position that Byens Bilpleje has achieved in Denmark.
Facts about Concept Carcare SE AB
The company is a 100% owned subsidiary of Byens Bilpleje.com.
• 7 departments in Stockholm
• 30 skilled car care specialists
• Handles approx. 25,000 cars annually in Stockholm and the surrounding area
• Mikael Kazjdan is the District Manager
• Kalle Nordén is Head of Development
For more information, contact Kalle Nordén, Head of development at Concept Carcare SE AB.
+46 70-3727111 alt. kn@conceptcarcare.com.